Quali sono i videogiochi più famosi di sempre? Ve lo siete già chiesto? Chissà se compaiono Fortnite o The Last of Us.
AESVI ha da poco diffuso la top 10 dei videogiochi più venduti in Italia nelle ultime settimane. Per la console la fa da padrone ancora una volta FIFA 17, gioco di punta della EA Sports, che con il campionato di calcio in pieno svolgimento non poteva che essere nelle prime posizioni.
Seguono nella classifica Tom Clancy's Rainbow Six Siege, sparatutto al tempo attesissimo della Ubisoft, e Horizon Zero Dawn, gioco d'azione della Guerrilla Games uscito da poco più di un mese.
Per PC invece è alla prima posizione l'intramontabile The Sims 4, seguito da Overmatch e Call Of Duty Black Ops II, il primo molto atteso dai giocatori e il secondo un classico dei giochi per PC.
Il mondo dei videogiochi si evolve ogni giorno, grazie alle nuove tecnologie che aumentano la giocabilità e il coinvolgimento del player e alle nuove grafiche super realistiche, non si parla più solo di videogiochi, ma di vere e proprie realtà alternative. Tuttavia, non c'è ancora spazio per le "nuove leve", infatti la classifica è molto rigorosa e accoglie (per adesso) solo veri e propri "senior" del campo.
Come vedrete inoltre, la maggior parte dei giochi in classifica da vita a saghe o franchising attive ancora oggi, a sottolineare un successo del format e di conseguenza commerciale davvero impressionante.
Un ottima cosa è che si possono sfruttare emulatori Nintendo o di altre piattaforme per rivivere le emozioni di un tempo!
Quali sono stati nella storia i videogiochi più famosi e venduti?
I nostalgici dei videogiochi anni '90 ameranno questa classifica, ricca di giochi senza tempo, ma anche di piccole grandi sorprese degli ultimi anni.
10. Minecraft
Apparso per la prima volta nel 2009, è ormai un classico. Difficile che un appassionato di videogiochi che si rispetti non sappia di cosa stiamo parlando.
Minecraft a dieci anni dalla sua uscita ha conquistato milioni di giocatori. Il successo di questo gioco non si deve alla grafica o alla giocabilità, ma semplicemente ad un'idea sviluppata incredibilmente bene, che ha dato vita ad uno dei fenomeni videoludici più incredibili di sempre.
9. Sonic the Hedgehog
Facciamo un passo indietro agli anni '90. Sonic, il pocospino più famoso dei videogiochi, ha venduto dal 1991 115 milioni di copie. Da poco anche per piattaforma Xbox LiveArcade nella raccolta speciale SEGA Vintage Collection.
E' un classico intramontabile, divertentissimo e adatto ad ogni età.
8. Final Fantasy
Correva l'anno 1987 quando per la prima volta fece la sua apparizione, come ultima speranza di casa Squaresoft al tempo. Ad oggi rappresenta una delle saghe più amate e longeve della storia dei videogames. Tra gli appassionati corre voce che con Final Fantasy XV, uscito a fine 2016, Hajime Tabata abbia completamente rivoluzionato il gioco, allontanandosi dagli standard del passato e consegnando ai gamers una originalissima esperienza di gioco.
7. Need for Speed
Gioco da 150 milioni di copie della EA Sports. Pubblicato nel 1994 per 3DO su PC, Playstation e Sega Saturn, è un videogioco automobilistico che gode di numerosi sequel, ultimo dei quali per PS4.
Il format negli anni si è mantenuto sempre fedele all'originale, durante l'epopea della PS2 si sono toccati livelli di gradimento eccezionali con la serie Underground.
Il successo, specialmente negli Stati Uniti, ha dato vita anche ad un film in puro stile hollywoodiano con protagonista Aaron Paul, l'amatissimo Jesse Pinkman di Breaking Bad.
6. The Sims
Dal 2000 ad oggi la saga di The Sims ha portato a casa ben 170 milioni di copie vendute.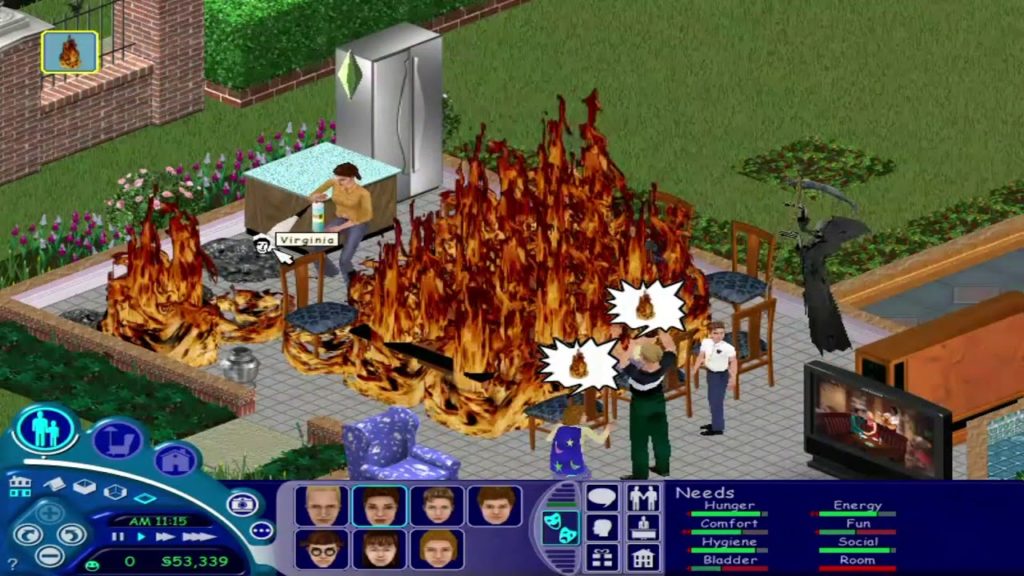 Il simulatore di vita della Maxis è un classico per PC, permette di creare intere città e controllare ogni aspetto della vita del sims. Grazie alle molteplici espansioni, la vita dei sims è diventata sempre più complessa e il gioco sempre più appassionante.
5. Grand Theft Auto
GTA. Prima apparizione nel 1997, sviluppata da Rockstar Games. Il capitolo originale permetteva di scorrazzare, rubare e guadagnare soldi per le strade di tre grandi città: Liberty City, San Andreas e Vice City. Nei giochi successivi le città sono cambiate ma il gioco è rimasto più o meno lo stesso, molto coinvolgente, realistico nella ricostruzione delle città e con una caratteristica da sempre distintiva, la totale libertà d'azione del personaggio.
4. Call Of Duty
Lo sparatutto più famoso di sempre. Con 280 milioni di copie per pochissimo non rientra nella nostra top 3. Pubblicato da Infinity Ward per la prima volta nel 2003 e sviluppata poi in seguito alternativamente da Sledgehammer Games e Treyarch. Ambientata nei vari capitoli in diverse guerre mondiali, questa serie ha incassato più di 10 miliardi di dollari, con ben 14 capitoli pubblicati.
3. Pokémon
Dopo l'uscita di Pokémon Go, il fenomeno Pokémon è visibile ora più che mai. La serie ha venduto 280 milioni di copie e la sola applicazione ha incassato 960 milioni di dollari. Cifre assurde per tutti coloro che vedono la serie più come un cartone per bambini che per appassionati di videogiochi. Ma a partire da Pokémon Verde, Pokémon Rosso e Pokémon Blu, questa è rimasta una delle più importanti saghe della Nintendo.
2. Tetris
Il secondo posto della classifica non dovrebbe stupire i veterani dei videogiochi. Quando si pensa ad un classico del gioco non si puù non citare Tetris, che con i suoi 495 milioni di copie vendute è uno dei videogames più conosciuti e amati della storia. Inventato dal genio Alexey Pajitnov, e più tardi portato in occidente da Henk Rogers, Tetris è rimasto un classico dei puzzle game dalla sua prima apparizione nel 1984.
1. Super Mario
Il gioco di Nintendo più famoso in assoluto, con mezzo miliardo di copie vendute è in cima alla nostra classifica. Dal 1981 il piccolo idraulico Mario e suo fratello Luigi hanno conquistato il cuore di piccoli e grandi. Meraviglioso il mondo del Regno dei Funghi e meravigliosi anche tutti i personaggi che lo popolano, dalla principessa Peach a Yoshi, fino al malvagio Bowser. Una serie intramontabile che si merita il primo posto della classifica dei videogiochi più venduti di sempre.
Consulente e web designer per lavoro, gamer e appassionato di tecnologia nel tempo libero.