Lego Super Mario è una linea di giocattoli LEGO ispirati al mondo di Super Mario. Questa linea di giocattoli è stata lanciata nel 2020 ed è stata progettata per fornire ai fan di Super Mario un modo unico e divertente di giocare con i personaggi del gioco.
I set LEGO dedicati all'idraulico baffuto includono una varietà di set diversi, tutti progettati per offrire ai giocatori ore di divertimento.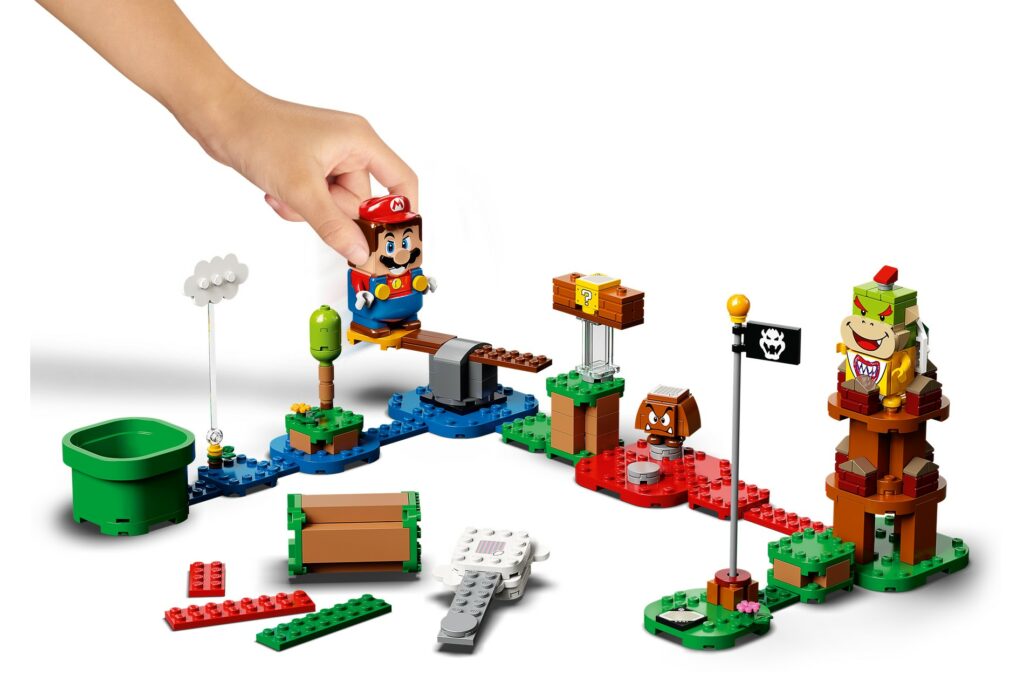 Tra questi set, ci sono:
Super Mario Adventures con Mario Starter Course / Codice: 71360 – 231 pezzi
Super Mario Piranha Plant Power Slide Expansion Set / Codice: 71365 – 199 pezzi
Super Mario Boom Boom's Bombardier Bash Expansion Set / Codice: 71366 – 151 pezzi
Super Mario Bowser's Castle Boss Battle Expansion Set / Codice: 71369 – 677 pezzi
Super Mario Whomp's Lava Trouble Expansion Set / Codice: 71370 – 201 pezzi
Super Mario King Boo and the Haunted Yard Expansion Set / Codice: 71376 – 565 pezzi
Super Mario Toad's Treasure Hunt Expansion Set / Codice: 71377 – 464 pezzi
Super Mario Desert Pokey Challenge Expansion Set / Codice: 71378 – 228 pezzi
Super Mario Mario's House & Yoshi Expansion Set / Codice: 71367 – 464 pezzi
Super Mario Bowser's Castle Boss Battle Expansion Set / Codice: 71374 – 466 pezzi
Tutti i set LEGO di Mario sono progettati per offrire ai giocatori un'esperienza di costruzione unica. I pezzi sono realizzati con materiali di alta qualità, in modo da garantire la massima resistenza e durata. I set LEGO Super Mario sono anche progettati per offrire ai giocatori un'esperienza di gioco interattiva, con l'aggiunta di apparecchiature elettroniche che consentono ai personaggi di interagire con i giocatori.
Questi set Lego sono un modo divertente e coinvolgente per i fan di Super Mario di vivere l'esperienza di uno dei giochi più amati di sempre. La qualità e la varietà dei set offrono ai giocatori ore di divertimento e costruzione, e sono perfetti per tutte le età.
Per iniziare a giocare realmente con tutti i set di espansione della serie Lego Super Mario, sarà sempre necessario lo Starter Pack, che include Mario, Bowser jr. e altri elementi base della fantastica serie.
I set Lego Super Mario più amati
Casa dei Regali di Yoshi
Il set LEGO 71406 di Yoshi e Mario è un gioco fantastico! Il set include il personaggio di Yoshi e la sua fantastica abitazione, ripresa direttamente dalla rappresentazione di Super Mario World per SNES.
Offerta
LEGO® Super Mario 71406 Yoshis Geschenkhaus Erweiterungsset
Con i personaggi iconici di Super Mario, Yoshi e Tantatalpa e i loro divertenti accessori, questo set di espansione aggiunge un livello ricco di divertimento allo Starter Pack di giochi LEGO Super Mario
I giocatori possono salutare Yoshi alla porta, fare un pisolino nel suo letto, raccogliere la frutta giocattolo e fare un divertente giro sulla Giostra delle delizie
I bambini possono far girare i personaggi di LEGO Mario, LEGO Luigi o LEGO Peach (venduti a parte) sulla giostra, finché i frutti non diventano d'oro, e raccogliere monete digitali extra quando "mangiano" la frutta
I personaggi sono grandi e ben fatti ed i dettagli sono stati tutti accuratamente progettati. I blocchi LEGO sono abbastanza resistenti da sostenere il peso dei personaggi e offre una grande varietà di configurazioni. Il set include anche una pista di gara con una varietà di rampe, curve e trampolini.
L'assemblaggio è stato abbastanza semplice e ci è voluto un po' di tempo per completarlo ma ne è valsa la pena. È stato un grande successo con i miei figli che non hanno potuto smettere di giocare. Lo consiglio vivamente a chiunque.
Castello di Peach
Scopriamo il fantastico set Lego 71408 Castello di Peach, uno dei più interessanti della serie.
Offerta
LEGO Super Mario 71408 Set di Espansione Il Castello di Peach, Giocattolo da Costruzione per Bambini
Il Pack espansione Castello di Peach include un castello giocattolo ricco di sfide con 5 figure, per ricreare un luogo iconico dal mondo di LEGO Super Mario
Include un Blocco Tempo, una vetrata con la Principessa Peach, un quadro Bob-omba con un Action tag nascosta, una torta con un Goomba all'interno, un frutto viola e altro ancora
Comprende anche un Tubo speciale: Castello di Peach, un Blocco Tempo, un ponte "rotto" e 5 personaggi LEGO Super Mario del famoso videogioco: Bowser, Ludwig, Toadette, un Goomba e un Bob-omba
È un set di costruzione di alta qualità con un sacco di dettagli e parti interessanti. Il castello è costruito su tre livelli, con ogni livello che offre un'esperienza di costruzione diversa. I tre livelli sono tutti costruiti con mattoncini di diversi colori e dimensioni, che lo rendono un'esperienza creativa e divertente.
Il set include anche una grande quantità di personaggi, tra cui Bowser e Toadette, così come un sacco di accessori che possono essere usati per abbellire il castello. Il castello si monta facilmente e non ha bisogno di molti strumenti. Il set è davvero divertente da costruire e giocare, è un grande regalo per i bambini che amano i videogiochi.
Luigi's Mansion
Il grandioso set 71401 porta la spaventosa villa di Luigi a casa vostra!
LEGO 71401 Super Mario Caccia ai fantasmi di Luigi's Mansion™ – Pack di Espansione
Caccia ai fantasmi di Luigi's Mansion – Pack di Espansione
I pack di espansione LEGO Super Mario sono un fantastico regalo per i bambini già in possesso di un LEGO Super Mario Starter Pack 71360/71387, necessario per poter giocare
Questo giocattolo LEGO Super Mario contiene 4 personaggi: Toad (con una faccia spaventata) e i seguenti nemici: lo Spettro Spazzatura, l'Acciuffone Rosso e Re Boo
Il set Lego 71401 Luigi's Mansion è una fantastica aggiunta alla linea Super Mario. Il set include una piccola riproduzione della famosa villa dei fantasmi di Luigi, con dettagli realistici come gli alberi, il cancello e la facciata della villa. Il set include anche due mini-personaggi di Luigi e Toad, oltre a un Bowser Jr. e un Boo.
La villa è dotata di due porte e di una finestra che possono essere aperte e chiuse. Le parti del set sono ben fabbricate e resistenti, e le istruzioni sono chiare e facili da seguire. Ci sono anche una serie di accessori come fasci di legna, una lampada ad olio e una lanterna. Il set è divertente da costruire e offre molte ore di divertimento.
Il set Lego Luigi's Mansion è un ottimo regalo per i fan di Lego e Super Mario.
Consulente e web designer per lavoro, gamer e appassionato di tecnologia nel tempo libero.