Playstation 4 è ancora la console più diffusa, e non potrebbe essere altrimenti viste le scarsissime scorte di nuova generazione PS5.
Ovviamente, le possibilità di divertirsi sono ancora moltissime, e se è vero che nuovi giochi PS4 continuano a sorprendere, alcune vecchie glorie sono ancora validissime e ottime da giocare.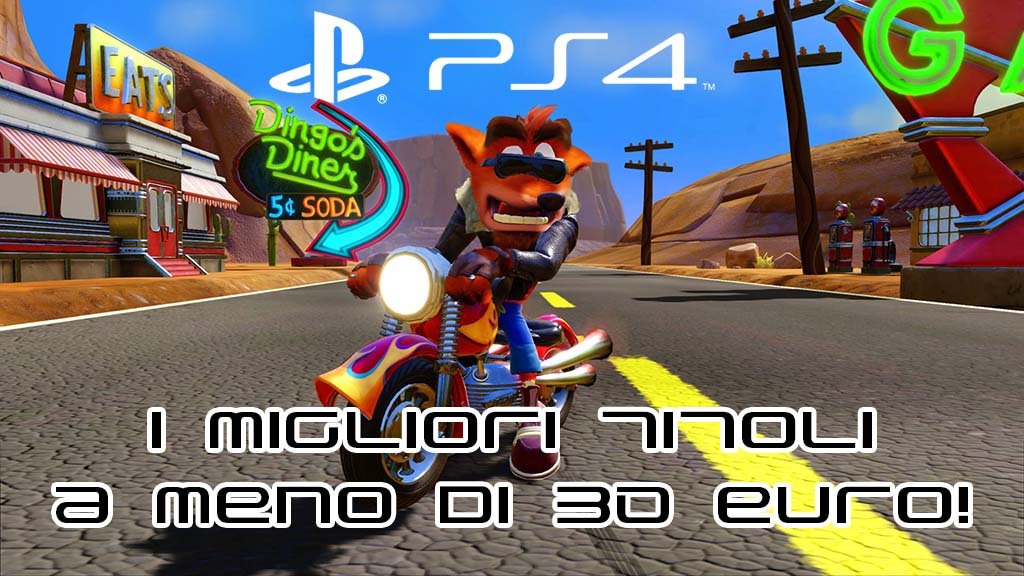 Oggi, vi guideremo nell'acquisto di 5 titoli che dovete acquistare senza pensarci, soprattutto visto l'incredibile prezzo. Tutte le proposte si trovano in offerta speciale su Amazon con consegna Prime, ma non ci sono garanzie sulla durata di questi prezzi quindi affrettatevi!
Marvel's Spider Man
Gioco uscito nel 2018 in grande stile, con tanto di presentazione ufficiale e playtrough live da migilaia di streamer in tutto il mondo.
Il nostro amichevole Spider Man di quartiere è in grandissimno spolvero in questo titolo, ha già fatto sue tutte le tecniche acrobatiche e di combattimento più complesse, e possiamo ovviamente utilizzarle in giro per una New York iper realistica.
Il divertimento è assicurato, con un open world magnifico, grafica mozzafiato e tantissime azioni da compiere, oltre ad un avventura principale avvincente da completare.
Resident Evil 2
Un remake tra i più attesi della scorsa generazione, e che remake!
Resident Evil 2 ripropone uno dei survival horror più amati di sempre in una veste grafica pazzesca.
Le quest e i nemici dello storico RE2 uscito su PS1 sono riproposti fedelmente, e sebbene sia stato omesso qualche particolare possiamo dire che tutto quello che serve c'è, ed è davvero bellissimo.
Nonostante l'età della trama non mancano i sussulti di paura, la tensione e il desiderio costante che qualcuno arrivi in nostro soccorso.
Sono state introdotte anche piacevoli novità che aumentano la complessità della sfida e la longevità, invitandoci a completare il gioco più volte per ricevere tutte le ricompense.
Crash Bandicoot N.Sane Trilogy 2.0
Semplicemente Crash!
Un altro remake che ha fatto davvero tanto piacere agli appassionati della saga e a tutti i fan PlayStation, con un comparto grafico rinnovato e tante belle aggiunte.
La competitività del titolo rimane molto simile all'originale, il genere, platform 3D ovviamente invariato.
Presenti sono tutti e 3 i primi titoli, Crash Bandicoot, Crash Bandicoot 2 e Crash Bandicoot: Warped!
Non lasciatevi sfuggire questa collezione ad un prezzo davvero basso!
Mortal Kombat 11
In pochissimi non conosceranno questa serie, una delle pietre miliari dei videogiochi, oltre che uno dei capisaldo del genere picchiaduro.
Non molti invece sanno che Mortal Kombat nacque a seguito dello straordinario successo di Street Fighter agli albori degli anni 90, quando le sale giochi ancora erano uno dei punti di ritrovo più amati dai giovani.
Gli sviluppatori allora cercarono di portare sangue e violenza sugli schermi, che mancava negli altri titoli dell'epoca.
Ci riuscirono in pieno, e ancora oggi è quell'atmosfera tetra e violenta a regnare indiscussa in questo gioco iconico. Che oggi può essere vostro ad un prezzo stracciatissimo.
The Witcher III: Wild Hunt
La livrea "Game of The Year" in bella mostra sulla copertina ci fa capire subito il valore del titolo.
Si tratta di un open world infinito, con possibilità di personalizzazione enormi, crafting, sviluppo di talenti e abilità e un comparto tecnico di primissimo livello.
Se volete divertirvi immergendovi in un mondo tra fantasy e medievale molto ben bilanciato non potete non acquistarlo.
I voti che rasentano 10/10 da parte delle testate giornalistiche più autorevoli non fanno che confermare il valore del titolo.
Se i titoli presenti in questa classifica non vi hanno convinto al 100%, il consiglio è di controllare quali sono i migliori giochi PS4 di sempre!
Consulente e web designer per lavoro, gamer e appassionato di tecnologia nel tempo libero.