Tra le carte di giocatori più ambite della modalità Ultimate Team di FIFA 21, ci sono sicuramente i TOTS. Scopriamo quali metodi ci sono per ottenere i giocatori Team of the Season se non si hanno milioni di crediti disponibili.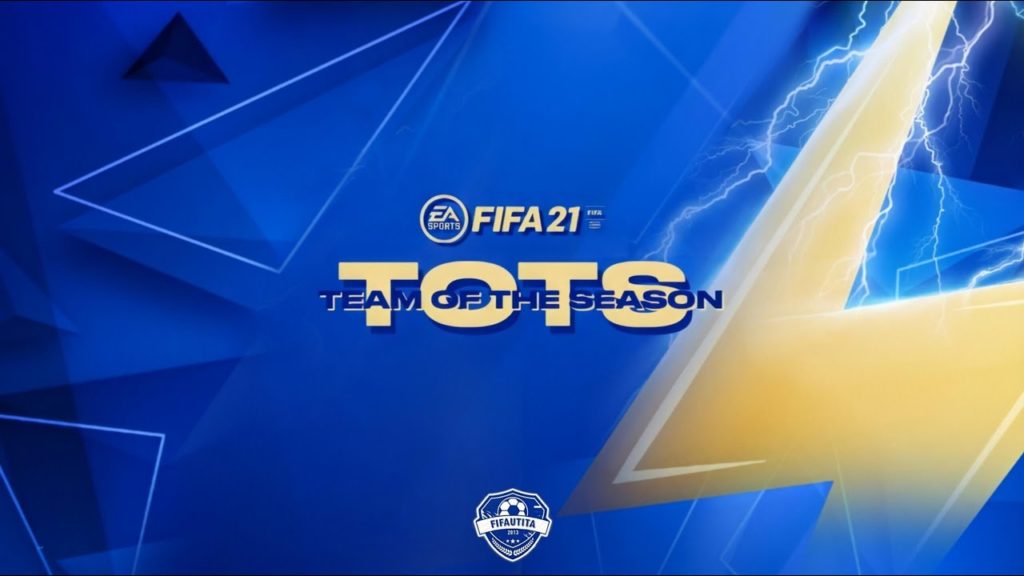 Le carte Team of the Season (TOTS)
Le carte TOTS sono rilasciate al termine dei campionati maggiori di tutto il mondo e comprendono una selezione dei 15 giocatori (o meno per certi campionati) migliori e con ottimo rendimento di tutta la stagione, per ogni campionato.
I campionati selezionati sono i seguenti:
Premier League (Lega Inglese)
Liga Santander (Lega spagnola)
Serie A (Lega italiana)
Bundesliga (Lega tedesca)
Ligue 1 (Lega francese)
EFL (seconda divisione inglese)
Saudi Pro League (Lega arabia saudita)
Super Lig (Lega turca)
Liga NOS (Lega portoghese)
Eredivisie (Lega Olandese)
CSL (Lega cinese)
MLS (Lega USA)
Conmebol (Coppa Libertadores: le carte sono di colore nero)
Resto del mondo (giocatori di altre divisione e competizioni)
Community (giocatori scelti dagli utenti tramite votazioni in game)
Tra i Team of the Season ci sono alcuni dei giocatori migliori dell'intero gioco, come i vari Cristiano Ronaldo, Messi, Neymar e versioni interessanti di molti calciatori.
I metodi per ottenere le carte Team of The Season
Per ottenere le versioni TOTS dei giocatori dovrete procedere in uno dei 3 metodi disponibili. Non ci sono metodi semplici, tuttavia molte di queste carte (non le migliori purtroppo) possono essere ottenute abbastanza facilmente.
Acquisto diretto nel mercato trasferimenti: si tratta del metodo più scontato, nel mercato trasferimenti potete trovare tutte le carte Team of the Season del gioco. I prezzi non sono certo bassi per i giocatori migliori, tuttavia potreste trovare offerte molto interessanti per le TOTS dei campionati meno competitivi, dettate da una maggior difficoltà di inserirli in squadre mantenendo un alta intesa. A corto di crediti? Scopri il nostro trucco crediti FIFA 21!
Pacchetti FUT: questo metodo è valido sempre, perché le carte TOTS restano in circolazione per tutto FIFA 21 dalla data di uscita di queste versioni. Le probabilità di trovare le Team of the Season inoltre non sono molto basse, a meno che non parliamo delle più forti. Tutto ciò che dovete fare è acquistare pacchetti (meglio se i più costosi, che hanno resa migliore) e incrociare le dita. Se siete abili nel gioco, potrebbe convenire partecipare a DRAFT Online vincendo più partite possibili e ottenere i pacchetti premio migliori. In tutti i casi, se non ottenete una carta utile al vostro team, potete sempre monetizzarla, perché sia i pacchetti acquistabili che i premi DRAFT sono scambiabili nel mercato trasferiementi.
Sfide creazione rosa: per un buon periodo tempo, tra le sfide creazione rosa troverete incredibili possibilità di ottenere pacchetti contenenti carte TOTS garantite! Il mio consiglio è quello di preparare molti giocatori (anche non scambiabili) durante tutta la stagione, per poi investirli in queste sfide SCR e ottenere le carte TOTS. In questo caso saranno del tutto casuali,sia campionati di appartenenza che i giocatori stessi. Inoltre tutti i premi SCR in questione non sono scambiabili nel mercato trasferimenti, quindi non potrete guadagnare crediti. In compenso, tutte le TOTS hanno un rating molto alto e potrete investirle in giocatori da sogno proprio in altre sfide creazione rosa.
Ora che conoscete tutti i metodi per ottenere i giocatori Team of the Season correte a fare le vostre mosse per costruire squadre incredibili!
Consulente e web designer per lavoro, gamer e appassionato di tecnologia nel tempo libero.